Meet the Owner and Founder of Zelaya Jr Painting, Franklin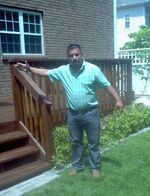 Previously, Franklin had worked for a number of contractors, honing his skills and learning all about the painting trade by being on-site. However, as a particularly motivated individual, he decided to cease being an employee and start up his own company at the turn of the Millennium. He has enjoyed servicing his own customers to the highest standards ever since. Franklin himself carries out and oversees every single job, ensuring that his customers receive the best possible service and outstanding results, every time!
Zelaya Jr Painting is a genuine asset to its community, looking after households and businesses in the Charlotte, NC area and beyond, including Gastonia, Rock Hill, Concord, Kannapolis, Mooresville, and many more local towns.
The company also gives back to the community, particularly to our national heroes - Zelaya Painting is proud to sponsor our veterans and the fellowship. Franklin also gives back even closer to home, with exceptionally good prices that beat other contractors by some distance.
Franklin's skills even extend to expert carpentry repair, so call to discuss your unique requirements.
---
Call for a FREE Quote
---