Kitchen Cabinet Staining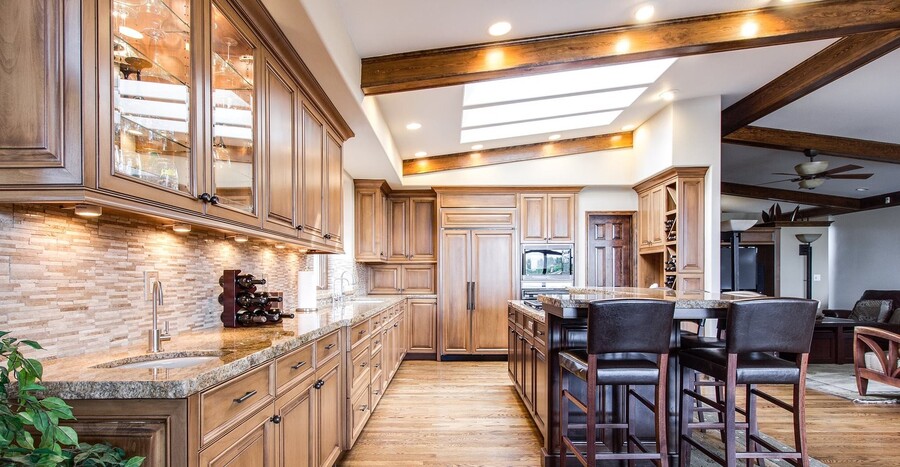 Do you want to update the look of your kitchen cabinets? Kitchen cabinet staining is an effective way to change up the look of your kitchen without having to go through the process of a full remodel. Zelaya Jr Painting has been a trusted professional for cabinet staining since 2000. Call now to learn more about how we can transform your kitchen cabinets with our professional cabinet staining services.
---
Call for a FREE Quote
---
⭐⭐⭐⭐⭐
"Franklin Zelaya was recommended to me for painting my kitchen cabinets. He and his crew did an awesome job. They were very careful about protecting everything else in the kitchen. They were very polite and he made sure that they did everything perfectly. They are very trustworthy and you would be choosing well by choosing Franklin and his crew to paint and do anything else necessary in your house"
Sandra M.
Benefits of Kitchen Cabinet Staining
There are a variety of different ways to change up the look of kitchen cabinets, but cabinet staining is a preferred choice among many homeowners. Some of the many benefits of cabinet staining are as follows.
Kitchen Cabinet Staining is more cost-effective and less time-consuming than other methods.
Kitchen cabinet staining gives cabinets a longer life-span than other methods.
Kitchen cabinet staining gives you a more natural look where it is easier to see the grain of the wood.
Kitchen cabinet staining is more forgiving if there are nicks or other damages in the cabinets.
Zelaya Jr Painting's Kitchen Cabinet Staining Process
In order for kitchen cabinets to be stained properly, they must be properly prepped. The first step in Zelaya Jr Painting's kitchen cabinet staining process is to remove the cabinet doors. After the doors have been removed, they will be sanded down to ensure that the old finish is removed and we have a clean surface to work with. After the proper preparation is done, we begin the staining process.
Why Call Zelaya Jr Painting for Kitchen Cabinet Staining?
If you are ready to reap the benefits of kitchen cabinet staining call the professionals at Zelaya Jr Painting today. If a full kitchen remodel is not something that fits your schedule or budget, consider kitchen cabinet staining. Since 2000, Zelaya Jr Painting has been helping give homeowners the kitchen of their dreams with our professional kitchen cabinet staining services. Our experienced staff will ensure that the job is done right. Call Zelaya Jr Painting today to get a fast quote on kitchen cabinet staining.
---
Call for Fast FREE Quote
---