Deck Staining in Cramerton, North Carolina
Zelaya Jr Painting is proud to offer deck staining and deck restoration in Cramerton, North Carolina.
Sun exposure, wind, and rain can damage the surface of your Cramerton, North Carolina deck in no time! UV rays and moisture can damage deck surfaces that have lost their protective seal. let the experts at Zelaya Jr Painting restore your deck's beauty and protect your investment. Zelaya Jr Painting's Cramerton, North Carolina deck staining specialists have years of experience in caring for decks.
---
Call for a FREE Quote
---
⭐⭐⭐⭐⭐
"Franklin and his crew did some reconstruction on our deck and then stained it. They did an absolutely beautiful job. I could not have been more pleased. When they were finished they cleaned everything up and put everything away. The interior of our home needs some painting and I want Franklin to do it. He is also a very kind and humble person. Glad I found him."
Renae B.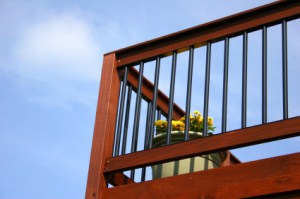 Cramerton Deck Staining Preparation
No deck staining job in Cramerton is too big or too small. Zelaya Jr Painting will prepare your deck in its entirety prior to staining or painting:
First, we will thoroughly pressure wash the deck, ensuring that all dirt, mildew, moss, and any damaged surface wood fibers have been carefully cleaned leaving behind a smooth, ready-for-stain surface.
Rough areas are sanded as needed to restore a smooth finish.
Then, Zelaya Jr Painting will then help you choose the right stain or paint to compliment your home and landscaping.
Finally, we carefully apply one or more coatings of high-grade paint or stain that can withstand the damaging heat and UV of the summer sun, the cold of winter, and regular exposure to moisture.
Rest assured your Cramerton deck staining project is in good hands with the high-quality painters at Zelaya Jr Painting. We have been staining and painting decks in Cramerton for over 23 years, and we look forward to enhancing yours! Call (704) 286-6866.
Zelaya Jr Painting Can Stain Any Deck in Cramerton!
Zelaya Jr Painting's 23 years of experience allow us to be prepared to stain any Cramerton deck. We offer affordable services to our clientele that are always completed in a timely manner. Zelaya Jr Painting can help your deck look great and be the envy of the neighborhood, so give us a call at (704) 286-6866 to get started on your Cramerton deck staining project
---
Call for FREE Deck Staining Quote
---
WHAT CUSTOMERS ARE SAYING:
5★★★★★ - "Franklin gave us a quote on Saturday then they came to power wash my deck on Tuesday and then sanded & stained it on Wednesday. They were so hardworking and thorough and my deck looks awesome. Very fair price too! Franklin and his team were a pleasure to work with. I really appreciate the timely manner and excellent job they did!"

Allison M., Deck Staining in Charlotte, NC

2022-01-24

5★★★★★ - "Franklin and his crew did some reconstruction on our deck and then stained it. They did an absolutely beautiful job. I could not have been more pleased. When they were finished they cleaned everything up and put everything away. The interior of our home needs some painting and I want Franklin to do it. He is also a very kind and humble person. Glad I found him."

Renae B., Deck Staining in Charlotte, NC

2022-01-24

5★★★★★ - "Excellent work, finished earlier than expected, great cost! Looks amazing!"

Adriana in Charlotte, NC

2023-04-03

5★★★★★ - "Franklin and his crew did an excellent job of removing popcorn ceiling and painting the interior LR, foyer, and stairwell
Highly Recommend"

John in Charlotte, NC

2023-03-27

5★★★★★ - "Great workmanship, at the best price, and done with amazing efficiency. Communication was top-notch. Would definitely use them again and would suggest their services to anyone."

Anonymous

2023-02-17

5★★★★★ - "Good Morning Franklin & Crew.
I want to say thank you for the project & your professionalism & quality work
you did for me.
The ceilings are spectacular! The walls are spectacular, The bathrooms are
the same. The trim was smooth & complete. The repairs were smooth &
complete. You were finished as advised, as I stated I have ZERO complaints.
The cost was as quoted!
Sincerely,
Jerry Cathey 704-896-2525
Mariner Villas, Cornelius, NC 28031"

Clarence Jerome Cathey in Cornelius, NC

2023-01-31

5★★★★★ - "What a great job Frank Zelaya and his crew did on our recent paint job. They were extremely professional and prompt in getting the job completed. They were very detailed and meticulous in their work. They were careful in working around all contents and their clean-up was great, leaving our house beautiful upon completion. All of the above and at a reasonable price. Would recommend Zelaya Painting highly and will use them on any future painting needs we have."

The Fosters in Stanfield, NC

2022-12-02

5★★★★★ - "These guys are just incredible. Prompt, so respectful, excellent communication, desire to please and amazing work ethic from everyone. A year ago they scraped every square inch of popcorn ceiling from our 3700 sq ft house. It was hazmat professionally done. They covered all of our floors and walls with plastic to protect them from the mess. They certainly know what they are doing. Also they cleaned the entire house upon completion. Thank you guys! But seriously...scraping, sanding and painting 3700 square feet!!! It was no small feat!! Wow. Incredible job. A year later we called Franklin and his team out to paint two spaces in our home including the formal living room and the informal living/stairway. It was quite a bit of painting and they somehow got it all done in ONE DAY. It was immaculate. Beautifully done. Cannot wait to call them again for more projects. Very fair pricing. Big fan."

Momma H., Ceiling Painting in Charlotte, NC

2022-01-24

5★★★★★ - "Frank and his crew painted the interior of my house and did a fabulous job. They are professional and do clean up after the job is finished. I highly recommend them!"

Betsy M., Interior Painting in Charlotte, NC

2022-01-24

5★★★★★ - "Franklin was great. He was very on the ball. The quote was very reasonable for both ceiling popcorn removal and painting with an oil-based primer to remove the smoke smell. The final product looks great. He even came back at no charge to fix an issue that was our fault. He had both a very reasonable price and very professional service. Would highly recommend."

Andrew

2021-05-26

5★★★★★ - "I have used the same painter for about 5 years and even had him do work for my kids and some neighbors. I was definitely using the wrong painter. Zelaya, Jr. is the right painter, did a fantastic job, great clean up, and every one of the crew was professional and respectful of our house and us. They are the painting crew I will use from now on."

Dean Brinker

2021-01-07

5★★★★★ - "I've used Zelaya Painting on two separate projects and they've done an excellent job for both! Fast, professional, and quality work!"

Anonymous in Fort Mill, SC

2020-12-03

5★★★★★ - "Franklin and his team did an excellent job. They were organized, meticulous, and respectful of the home. My house looks amazing. I highly recommend this team."

Anonymous in Waxhaw, NC

2020-12-03

5★★★★★ - "Very professional and courteous. We had all of our bedrooms, bathrooms, living areas, and the garage painted. The work was impeccable. Our furniture and floors were carefully covered and protected before the painting began. And after the work was completed, everything was cleaned up and put back in place. Would definitely recommend their painting services."

Marina in Concord, NC

2020-11-30

5★★★★★ - "Franklin and his crew did an amazing job. Upon arriving, they worked tirelessly and efficiently. They even finished early. I couldn't be happier with the outcome!! I will definitely use them again and recommend them!!"

Anonymous in Clover, SC

2020-05-21

5★★★★★ - "Franklin and his team did an amazing job painting my front entryway and 5 bedrooms in my home. I met with Franklin on a Friday, he began the work on Monday and finished Tuesday. He matched my color choices exactly. I was very pleased with the finished results. I will definitely keep Zelaya Jr. Painting in mind for future projects."

G. Sterling in Charlotte, NC

2019-11-26

5★★★★★ - "Outstanding response time, polite and courteous crew, and did fantastic work! I would recommend wholeheartedly!"

Brylan Gann in Davidson, NC

2019-07-15

5★★★★★ - "Franklin and his team were amazing! Not only were they professional, punctual and polite but their job was beautiful!!! I have a 2 story den with 20 foot ceilings and they were able to expedite our job bc we had a time crunch for moving. Not only did they do a beautiful job but they even got done earlier than expected. I highly recommend Zelaya and will definitely use him again. He has a customer for life!"

Elizabeth S. in Weddington, NC

2018-12-17

5★★★★★ - "What a gentleman, the owner, Franklin is at Zelaya Jr. Painting. He and his team did great painting and repairs of several rooms in our home. There were a lot of windows, doors, and trim so it was a challenging job. I highly recommend them!"

Kathy K. in Mint Hill, NC

2018-12-13

5★★★★★ - "Zelaya Jr. Painting has a great team. We hired them to paint several rooms in our home, including the ceilings. There were a lot of windows, doors, and trim, so It was a challenging job. The entire crew worked hard and were very respectful. The owner, Franklin, is a real gentleman. We are happy with the job well done."

Kathy K. in Mint Hill, NC

2018-12-13

5★★★★★ - "In December 2018 Frank and his team painted the entire interior of my 2200 sq ft 70's ranch home. They prepped the trim and walls everywhere (everything looked well worn before they began) and the result was absolutely beautiful. He has a sizeable crew and they did all of this in 2.5 days. Cost was a bit better than 2 others who would have taken longer. Add to this that everyone was really pleasant, always greeting me with a smile. Excellent experience."

Tina Zeman in Charlotte, NC

2018-12-06

5★★★★★ - "These guys are just incredible. Prompt, so respectful, excellent communication, desire to please and amazing work ethic from everyone. A year ago they scraped every square inch of popcorn ceiling from our 3700 sq ft house. It was hazmat professionally done. They covered all of our floors and walls with plastic to protect them from the mess. They certainly know what they are doing. Also, they cleaned the entire house upon completion. Thank you, guys! But seriously...scraping, sanding and painting 3700 square feet!!! It was no small feat!! Wow. Incredible job. A year later we called Franklin and his team out to paint two spaces in our home including the formal living room and the informal living/stairway. It was quite a bit of painting and they somehow got it all done in ONE DAY. It was immaculate. Beautifully done. Cannot wait to call them again for more projects. Very fair pricing. Big fan."

homeowner, Interior Painting in Charlotte, NC

2018-12-05

5★★★★★ - "Franklin and crew arrived on time, did an excellent job....and charged a reasonable price. Highly recommend them our front doors look like new!"

S & J.T. in Mooresville, NC

2018-12-05

5★★★★★ - "Franklin and his team provided a competitive quote and were able to start the next day. They completed the job very quickly but to a very high standard. All of the team were so friendly and polite. I have no reservations about recommending this firm and will definitely use them for my next painting job."

Alan Brady in Waxhaw, NC

2018-02-12

5★★★★★ - "Franklin Zelaya was recommended to me for painting my kitchen cabinets. He and his crew did an awesome job. They were very careful about protecting everything else in the kitchen. They were very polite and he made sure that they did everything perfect. They are very trustworthy and you would be choosing well by choosing Franklin and his crew to paint and do anything else necessary in your house"

Sandra Mettlach in Fort Mill, SC

2018-01-10

5★★★★★ - "Franklin and his team are very professional and friendly. They attended to every detail with care and expertise. Great job!"

Joe, Painting in Charlotte, NC

2017-09-25

5★★★★★ - "We had our garage painted inside and out. The painters completed the job in record time. The painters were a pleasure to work with. We really like the fresh new look!"

Anonymous, Painting in Charlotte, NC

2017-09-25

5★★★★★ - "Franklin Zelaya's team painted our medical center. They worked around our schedule, never left a mess, and did a fantastic job! I was so pleased I contracted him to paint some rooms at my house. We also contracted to him to build a deck for a hot tub. He did a fantastic job on the deck and the painting. His prices beat every other estimate, his crews are fast, professional, and friendly. I felt like I was on "fixer upper" when the job was finished!!! I highly recommend hiring Mr. Zelaya!!"

Robin C in Waxhaw, NC

5 ★★★★★ - "I can't say enough good things about Zelaya Jr. Painting. Franklin and his crew did the entire interior of my house. Fantastic job and the compliments from visitors and neighbors has been non-stop."

larry hippler in Charlotte, NC

5 ★★★★★ - "Franklin and his team painted the whole interior of my house, including ceilings. They were on time, clean and repaired cracks and other drywall where it needed it. Highest quality of paint used. I love it!"

Dawn Craft in Waxhaw, NC

5★★★★★ - "Zelaya Painters did a great job at my house. They worked quickly, while still being very meticulous in their work. I had 5 rooms painted and they all look beautiful and at an affordable price. We will definitely hire them again for future painting needs."

Sarah W., House Painting in Columbia, SC

2016-01-13

5★★★★★ - "Zelaya his team did an awesome job on my house! They were ontime and had the whole job finished in less than 48 hours. I was beyond pleased with the quality of work. The paint job looks so good. I have no complaints what so ever. I would absolutly use them again in the future! Their prices were very fair and they are willing to work with you to stay in your budget. So impressed."

Erika D., House Painting in Columbia, SC

2016-01-13

5★★★★★ - "Excellent service - interior & exterior painting, deck staining, powerwashing."

Tom L., Exterior Painting in Columbia, SC

2016-01-13

5★★★★★ - "Zelaya Jr Painting did some painting, patching, wallpaper removal, power washing, and deck staining. Franklin is a real nice guy, honest, and dependable. He does what he says he is going to do."

John S., Wallpaper Removal in Columbia, SC

2015-06-02

5★★★★★ - "I am very satisfied with the good quality of work that Zelaya Jr Painting has been done in my house Franklin is a very kind of person there he do all the prepping real good they use the quality materials and paint my house is 10.000 sf and he also paint my factory I will use him again and I refer him to anybody."

Howard V., Commercial Painting in Columbia, SC

2012-05-31

5★★★★★ - "Franklin is a real nice guy, honest, and dependable. He does what he says he is going to do. He removed wallpaper in a condominium. He did all the repair on drywall and paint all interior condos. He did a great job. I will use him again for any reference."

John S., Drywall Repair in Smyrna, SC

2012-05-31

5★★★★★ - "I am pleased with the nice job of Franklin and his crew did on my house and my stores. He did a great job for me. He did interior painting in my house and my two stores. I will definitely recommend him."

Ronny, Commercial Painting in Columbia, SC

2012-05-31

5★★★★★ - "Franklin is a very good painter. He did a wonderful job. He paints my kitchen and my dining room. I will use him again. I recommend Zelaya Jr Painting."

Nancy B., Interior Painting in Columbia, SC

2012-05-31

5★★★★★ - "Zelaya Jr Painting is a good painting company. They did my interior painting, and they restored my pool. They did an excellent job I recommend Franklin. He is honest guy and he gives reasonable prices."

Kristy R., Interior Painting in Columbia, SC

2012-05-31
---
Call for FREE Deck Staining Quote
---